Registered in 1994, the Mobi-mat® brand is nowadays the trademark reference for beach access mats and any public or private portable outdoor access surfacing for people with disabilities. Inspired from the beach landing mat used by the US Marine Corps, this trademark originates from the words Mobility and Mats or Material, which bring tactical agility on unstable grounds for aging people with walkers or canes, wheelchair-bound people, parents with strollers, visitors of parks, cemeteries, and outdoor events during nice or inclement weather.
Mobi-mat® portable rollout mat is the must-have mat on any beach. It follows ground contour and brings you anywhere you wish, whatever your ability level.
With Mobi-Mat® beach access mat, Go Where You Want to Go!
This is why Mobi-mat has become so popular and claims to be the mat which gives wings!
The USPTO has given the MOBI-MAT trademark serial number of 7900538. The current status of the trademark MOBI-MAT® is 'registered'.
US Reg No 7900538
Mobi-Mat's First Federal Trademark Registration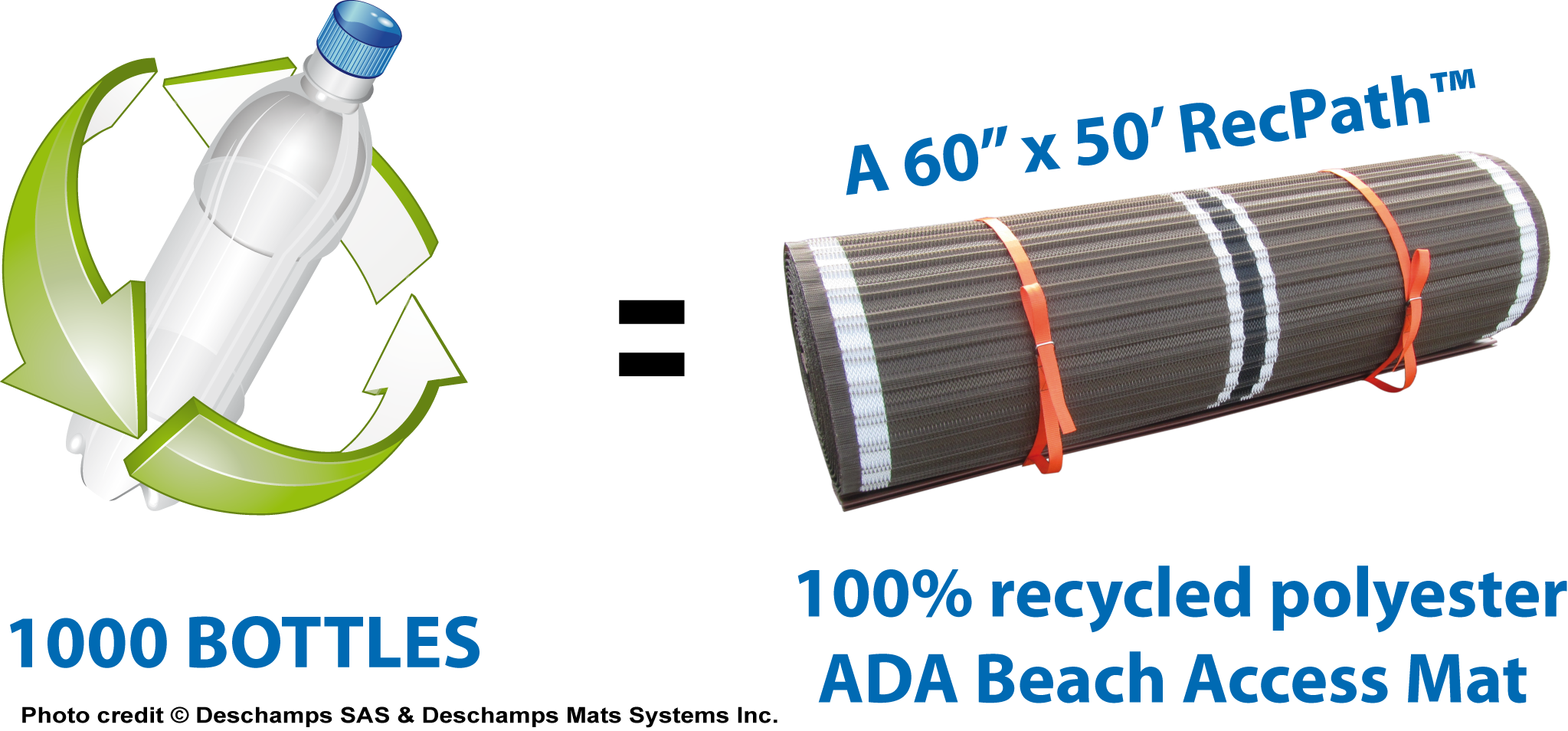 Protecting and enhancing our county's environment and its sustainability is one of the greatest challenges we face, and potentially one of our greatest opportunities. In the future, counties that thrive are likely to be those that adapt to a low carbon, more efficient world.
Current and in-development Mobi-mat® RecPath™ are being designed to lower our environmental impact and contain 100% sustainable materials such as high-performance polyesters formed from recycled water bottles.
Our mission is to make the cheap plastic mats obsolete and the 100% recycled polyester and soon biodegradable polyester the norm!
In addition to recycling everything that can be recycled, Deschamps Mat Systems Inc. thinks green on a day to day basis and has become an ISO 14 001 certified company.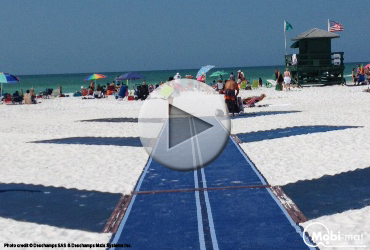 The 450-foot blue jay recycled polyester Mobi-mat® pathway is now the star of the area around the county's new Siesta Key beach pavilion by improving access for beachgoers with disabilities, using wheelchairs, pushing strollers or simply hauling beach carts full of toys and supplies.